It would not be possible to mention every bulldog that has contributed to the success of the kennel over the past thirty eight years. Therefore we have chosen the dogs we feel have had the most influence on the breed.

Photographs not appearing in this section are on show in the Gallery. Although the reproduction of some of the older photographs in the Gallery is rather poor, we felt they would be of interest to those who would have only seen these dogs' names in pedigrees. Most of the males would have been prolific stud dogs at some time during the past three decades.

White Regality, the foundation bitch of the kennel, was purchased from John and Sheila Alcock in 1975. She was sired by Mellea He's a Smiler ex. Stalwart Kelly. The Alcocks lived just 5 miles from our own home and being in the London area were closely associated with the London Bulldog Society. At that time John was their President and Sheila editor of the bi-monthly magazine, The Bulldog Broadsheet', which she edited for 20 years.

| | |
| --- | --- |
| | |
| | CHIANSLINE WHITE REGALITY OF KINGROCK |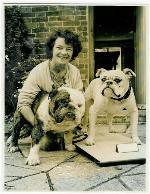 This is a photograph of Sheila with Chiansline Camus, (White Regality's grandfather), and the stuffed bulldog 'Joey' who had recently been refurbished after having been found, in a very neglected condition, in an antique shop. Joey had served on board ship during the First World War and had lead the peace march through the streets of London in 1919. Sadly Joey was crushed to death in 1922 when a torpedo slipped whilst being transported. The London BS presented Joey to the Captain and crew of the most recent in a long line of ships named 'HMS Bulldog' in the 60's.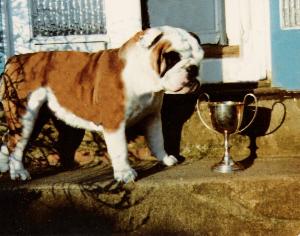 In 1976 White Regality was mated to George and Eva Parker's famous champion Brumigum Stroller Boy of the Regions; one of the top producing stud dogs in the history of the breed. From this litter we kept the red and white bitch puppy Kingrock My-Nora-Tee who did a little winning in the showring but was to show her full potential as a brood as she became one of the UK's top producing bitches.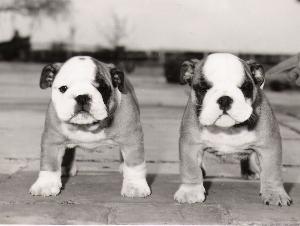 From My-Nora-Tee's first litter, by Merriveen Son of Satan, two of the puppies went on to become champions - Kingrock Captain Christian and Merriveen Maybe Baby, shown in the photograph at 8 weeks of age ( Captain is to the right ).

| | |
| --- | --- |
| | |
| | CH. KINGROCK CAPTAIN CHRISTIAN |
| | |
| --- | --- |
| | Chris handling CH. MERRIVEEN MAYBE BABY having just won the CC & BOB |
| | |
Although Captain won well in the showring he will possibly be better remembered as a stud dog with the famous Ch. OCOBO SKIPPER being the best known of his progeny. Captain's litter sister, Maybe Baby, not only produced champion offspring but dominated the show scene for a while amassing 17 CC's, including Crufts, and winning 'Bulldog of the Year' in 1981. Chris handled for the Merriveens if they had several dogs entered as he would for other kennels. He handled Ch. Merriveen Halcyon Daze through to his title, Ch. Merriveen Poppy Daze through to her first CC and handled Ch. Thatchway Gold of Linmist through to all of her qualifying CC's.

| | |
| --- | --- |
| | |
| | The outstanding sire CH. KINGROCK FREEZO |
Another of My-Nora-Tee's champion offspring was the legendary stud dog Ch. Kingrock Freezo. He has gone down in history as one of the breeds leading sires of all time. For a white this was even more remarkable!

Freezo, mated to a Ch. Kingrock Captain Christian daughter, Kingrock and Roll, produced a litter containing two champion males. ( shown below )

| | |
| --- | --- |
| | |
| | CH. KINGROCK CANIS PUGNAX |
| | |
| --- | --- |
| | CH. KINGROCK STAR OF OCOBO |
Canis Pugnax, mated to Kingrock Katrina, litter sister to Ch. Kingrock Freezo, produced the handsome Ch. Int. & Nordic Ch. Kingrock Buster. Buster won 1CC before leaving the UK to be campaigned in Scandinavia. Winning his champion title in Sweden, Norway and Finland gave him his Nordic title in record time for the breed. Buster then returned home and went on to gain his UK title.

| | |
| --- | --- |
| | UK. INT. & NORDIC CH. KINGROCK BUSTER |
| | |
Buster was mated to Ch. Tretun Miss Matilda and in the resultant litter were two stunning white and red dog puppies. They were both purchased by the Kingrock kennel and we kept one who went on to become Ch. Tretun Sam Wella at Kingrock, seen below being handled by Graham at the Bulldog of the Year competition (where he won reserve Best Dog two years running) and Best of Breed at Crufts.

| | |
| --- | --- |
| | |
| | CH. TRETUN SAM WELLA AT KINGROCK |
His brother, Bustersam, went to Finland where he became the top winning Bulldog and a leading stud dog (photo below).

| | |
| --- | --- |
| | |
| | INT. & NORDIC CH. TRETUN BUSTERSAM AT KINGROCK |
Another of our Buster sons was the handsome Ch. Amurton Dirty Harry at Kingrock. In 1990, having never competed in a puppy stakes competition, we decided to enter Harry and the other Buster puppy we were showing at the time, Kingrock Captain Scarlett, in these classes. Harry was entered at the Welsh Kennel Club championship show and won on the first day, went back on the final day and won overall.

| | |
| --- | --- |
| | |
| | AMURTON DIRTY HARRY AT KINGROCK having just beaten 443 other puppies |
The judge at Welsh Kennel Club (photo above) was Andrew Thompson and Harry is being handled by our kennel manageress, Pat Meredith.

Scarlett was entered a week or two later at Birmingham Ch. show; he won on the day and went reserve Best Puppy in Show overall. Not quite as good as his half brother but 2nd was still a great win for the breed.

| | |
| --- | --- |
| | |
| | KINGROCK CAPTAIN SCARLETT having just beaten 385 other puppies. |
| | |
| --- | --- |
| | The judge at Birmingham was Betty Flavell and Scarlett was handled by Graham |
| | |
| --- | --- |
| | |
| | CH. AMURTON DIRTY HARRY AT KINGROCK |
Since our move to Counthorpe several stud dogs have kept the kennel to the fore. The most noteworthy are shown below, with all others included in the 'Gallery'.

| | |
| --- | --- |
| | |
| | KINGROCK PUGILIST (Top Sire of 2002) |
PUGILIST sired many winners, the most notable being CH. BELHEDDON TILSON, considered by most to be the best headed dog seen in the breed for many years.

| | |
| --- | --- |
| | |
| | The K. Pugilist son KINGROCK MIGHTY MURPHY (8 months) |
| | |
| --- | --- |
| | |
| | The K. Mighty Murphy son KINGROCK ENDEAVOUR |
| | |
| --- | --- |
| | KINGROCK DO IT YOURSELF 1CC 2RCC'S 11 BEST IN SHOWS |
| | |
KINGROCK JUGGERNAUT (9 months)
A son of KINGROCK DO IT YOURSELF and litter brother to the lovely KINGROCK
CALL MY BLUFF. (Best Puppy & RCC at her first, and only, championship show)
KINGROCK FIREFIGHTER
Firefighter is son of Ch. Iceglint I'm Alfred who Chris gave Best of Breed to when he
judged at Crufts in 2002. Firefighter is the sire of Red Ensign shown below.